13th Annual Foley BBQ & Blues Cook-Off Mar 13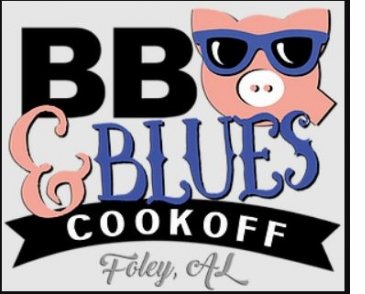 (FOLEY, AL) – The annual Foley BBQ & Blues Cook Off, one of the South Baldwin Chamber Foundation's biggest fundraisers, will be held Saturday, March 13, in Foley's Heritage Park in downtown Foley, Alabama at the intersection of Hwy 98 and Hwy 59. Begin sampling some of the dadgum-finger-lickin' good BBQ when the gates open at 11am. Admission is $10 and children ages ten and under are no charge. Tickets can be purchased at the gate. All proceeds from the event benefit the South Baldwin Chamber Foundation, which supports thirteen local schools through programs and partnerships.

Enjoy award-winning barbeque, entertainment, craft and retail vendors, food trucks and children's activities. Blues bands performing will be Southern soul-inspired The Defrosters, Spearman Brewers panhandle blues, and the upbeat, funky, soulful True Blue Band, Over 20 backyard division cook teams from across the Gulf Coast will compete for the Grand Championship title and awards. The Chamber is currently pre-selling Boston Butts precooked by L.A. Barbeque, to benefit their organization. They will be ready for pickup at the Cook-off March 13.
 
Congratulations to Jackeline Hurtado, an art student and senior at Foley High School, who won the 13th Annual Foley BBQ & Blues Cook-Off T-shirt Design Contest. Plus, all trophies awarded to the Cook-off winners have been painted by Foley High School art students.

Festival goers need to wear masks and use social distancing practices while standing in lines. Hand sanitizer will be provided throughout the festival grounds.
For more information, visit their website or follow them on Facebook.