BUDDY GUY ANNOUNCES NEW ALBUM
THE BLUES DON'T LIE 
AVAILABLE NOW !
FEATURES APPEARANCES BY ELVIS COSTELLO, MAVIS STAPLES AND JAMES TAYLOR
 
"Buddy Guy plays 150 shows a year …and his take on the blues, expressed through his plaintive voice and virtuosic guitar, is still scorching." – Billboard
"searing… masterful…. Buddy Guy…shows no signs of decreasing productivity." – Rolling Stone
"scintillating … powerful." – Guitar World
"Buddy Guy is still sounding as lively as ever…With a career that began in the 1950s… Guy is one of our last links to the golden age of blues. …The way it sounds here, though, that age never ended…Guy sounds vital." — UPROXX
 
The Multi-Grammy Award winning blues icon Buddy Guy returns with his 19th studio album, THE BLUES DON'T LIE, available everywhere September 30 via Silvertone/RCA Records. 
Preceded by singles "Gunsmoke Blues" ft. Jason Isbell and "We Go Back" with Mavis Staples with this new album, the genre's most vital star is back
flexing his crown.
STREAM/DOWNLOAD/BUY here:  https://buddyguy.lnk.to/TBDL
The follow up to his sixth Billboard #1 album The Blues Is Alive And Well, the Blues Album chart-topper reunited with his Grammy Award winning producer/songwriter and longtime collaborator Tom Hambridge, to bring us even more emotionally-charged music with even more bone-chilling hard earned lyrics and lessons. The Americana Music Association Lifetime Achievement Award winner will feature even more guest appearances on this new LP, including James Taylor on "Follow the Money."
THE BLUES DON'T LIE is Buddy Guy's follow up to his 2018 Billboard #1 Blues Album Chart lead   THE BLUES IS ALIVE AND WELL, which debuted at #1, making it his thirteenth Top 10 Billboard Blues album. Always a welcomed return to music, he won "Best Blues Album" at the 2019 Grammy Awards. This all followed his 2015 album Born To Play Guitar, which also debuted at #1 on Billboard's Top Blues Album charts and won "Best Blues Album" at the 2016 Grammy Awards.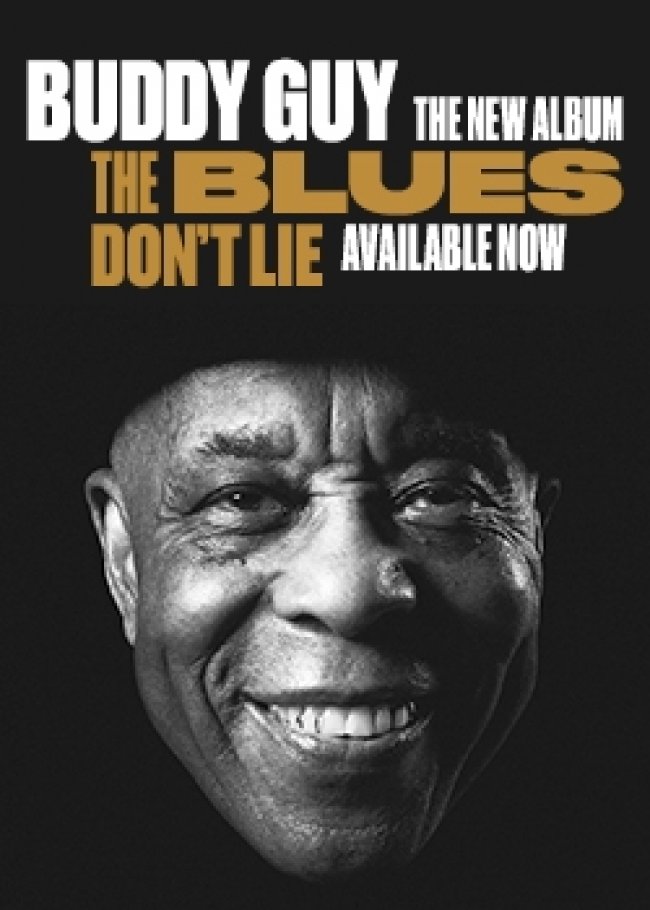 The recipient of the 2015 Grammy Lifetime Achievement Award, Buddy Guy's incredible career spans over 50 years with just as many albums released. Career highlights include 8 Grammy Awards, 38 Blues Music Awards, the most any artist has had, a Kennedy Center Honors, NARM Chairman's Award for Sustained Creative Achievement, Billboard Music Awards' Century Award for distinguished artistic development, Presidential National Medal of Arts, and induction into the Rock and Roll Hall of Fame to name a few.
At 86 years young, Guy proves that it gets greater later as he continues to record and tour around the world with performances at the New Orleans Jazz & Heritage Festival, Austin City Limits Live at the Moody Theater and more.
PRE-ORDER: 'Gunsmoke Blues' feat. Jason Isbell:
Multi-retailer – https://buddyguy.lnk.to/gunsmokeblues
 
BUY/STREAM: THE BLUES DON'T LIE:
Multi-retailer – https://buddyguy.lnk.to/TBDL  
Stay connected with Buddy Guy:
www.buddyguy.net
www.buddyguy.com
www.facebook.com/therealbuddyguy
twitter.com/therealbuddyguy
instagram.com/therealbuddyguy/

For more information, please contact:
Joshua.Dickinson@rcarecords.com