Buddy Shute & The Motivators :: BAR-B-QUE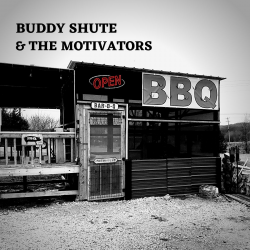 "Think I'll Give The Blues A Try"
Website

Hot off the grill! Bar-B-Que, a new album by Buddy Shute & the Motivators, features fourteen smokin' hot tunes recorded by Buddy and his hot little Ozark Mountain blues band. Most are originals, three are covers, and one was written by Buddy's old friend John Magnie (of New Orleans' legendary Subdudes), and recorded for the first time.

Buddy's feel-good style comes from the older musicians who would sneak him in to play in hometown Memphis bars when he was sixteen and his ten years in New Orleans playing everywhere with everybody.

Accompanied by veteran musicians Mark McGee (harmonica), Steve Baskin (bass), Randy Reese (drums), and Brenda Baskin (vocals), Buddy's arrangements, guitar and vocal stylings are in top form here. Keith Hubbard was imported to add his distinctive New Orleans keyboard style.

Recorded, mixed and mastered by Chris Moore at East Hall Recording, the project was a labor of love from start to finish.

Bar-B-Que is a southern thing, and this is a southern flavored CD. Both Buddy and Brenda hail from Memphis, and they bonded over discussions of the best places to get a pulled pork sandwich and a rack of ribs. Besides the perfume of hickory smoke, summers in the south consist of starry nights, steamy days, slow lazy rivers, mason jars filled with sweet tea, and a long musical tradition of blues, soul and rock n' roll. These are the themes that run throughout this music.

Available for streaming in the usual places.