Bukka White Blues Festival Oct 15-16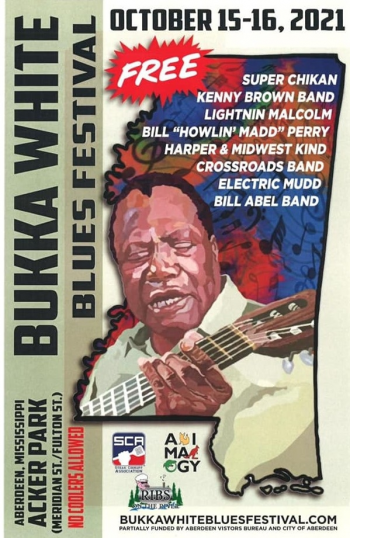 (ABERDEEN, MS) – The annual Bukka White Blues Festival features blues legends and emerging talent alike and attracts fans from all over the world. The free, 2021 event will be held in Acker Park, 301 N. Meridian Street in Aberdeen, Mississippi. The festival honors Aberdeen's bluesman, Bukka White, famous for his original song, "Aberdeen Blues." Booker "Bukka" White is featured on Mississippi Blues Trail Marker located in Aberdeen.

Kicking off the live music Friday at 6:15pm are The Crossroads Band, followed by Bill "Howlin' Madd" Perry, and then Lightnin' Malcolm at 8:45pm.Super Chikan, the Kenny Brown Band, Harper & Midwest Kind, The Crossroads Band, Electric Mudd, and the Bill Abel Band.

Saturday, Stormy Monday kicks off at 1:15pm, followed by the Bill Abel Band, The Electric Mudd, Harper & Midwest Kind, Kenny Brown Band, and then Super Chikan at 8:30pm.

Along with live music, the festival will feature a Ribs on the River BBQ Cook-Off, ACA Steak Championship, Kids Entertainment, Creatures of the Night Animal Show, Food Vendors, Plus more! No coolers allowed.