Celebrate Black History Month on SiriusXM, Pandora, and Stitcher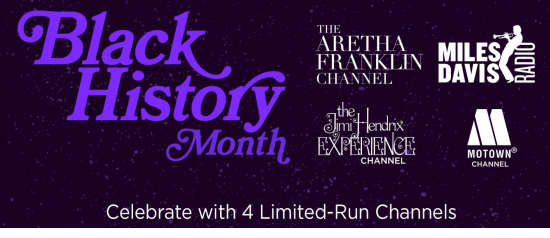 Tune in during the month of February for special programming across music, entertainment, comedy, talk, business, sports, and more. SiriusXM announced new limited-engagement channels and specialty programming as a part of SiriusXM, Pandora, and Stitcher Celebrate Black History Month, available now across SiriusXM platforms.
For the month of February, SiriusXM and its brands will be spotlighting Black artists and personalities who have created new genres, styles and ways of thinking, forever transforming Black communities and beyond. For example: The Aretha Franklin Channel will pay homage to the 'Queen of Soul' by featuring Franklin's iconic catalog; The Motown Channel will celebrate the iconic record label envisioned by Berry Gordy that generated history-making artists who changed music forever; BB King's Bluesville (ch. 74) "Influences of the Blues with Keb Mo"- Blues legend Keb Mo gives insight into the music of influential African American Blues artists.
SiriusXM will launch several limited-engagement music channels saluting some of the most influential, pioneering Black artists, in addition to celebrating the sounds and artists from legendary record label, Motown. They have collaborated with these historic artists and their teams to create unique, curated radio channels exclusively for listeners and fans. Across SiriusXM channels, Pandora stations, and Stitcher podcasts, listeners will find a variety of specialty programming celebrating the impact of Black culture, traditions, history, and those who we call "wave-makers."
Sirius XM is the leading audio entertainment company in North America, and the premier programmer and platform for subscription and digital advertising-supported audio products. Pandora, a subsidiary of SiriusXM, is the largest ad-supported audio entertainment streaming service in the U.S. Stitcher is the best place to listen to, produce and monetize podcasts.
For a full schedule of all Black History Month special programming on SiriusXM please visit here.