Columbia Pike Blues Weekend June 18-20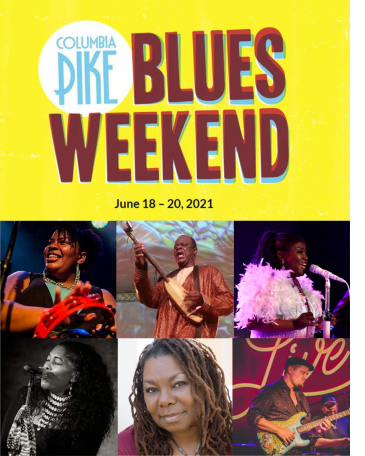 (ARLINGTON, VA) – Mark Your Calendar for three days of Blues for the Columbia Pike Blues Weekend! This year we're bringing the Pike multiple ways to celebrate the blues. With three nights of streamed concerts "Live from the Rug Shop", a downloadable playlist to enjoy at home, and an afternoon of in-person performances!

Saturday's live, in-person performances will take place at the Fillmore Shopping Center parking lot at 2705 Columbia Pike. Appearing will be Robin Kapsalis/Vintage 18 (1pm EST), Cheick Hamala Diabate (2:30pm EST), and Carly Harvey (4pm EST). There are several car-free options for getting to the festival and ample parking is available at the CVS or in nearby garages. 
 
Streaming live from Manoukian Brothers Oriental Rugs every evening at 7:30 pm (EST) is Stacy Brooks June 18, Deletta Gillespie June 19, and Sol Roots June 20. Streaming events are free. Check back soon on the website for links to tune-in!