Denmark's 15th Annual Blues Heaven Festival Nov 12-13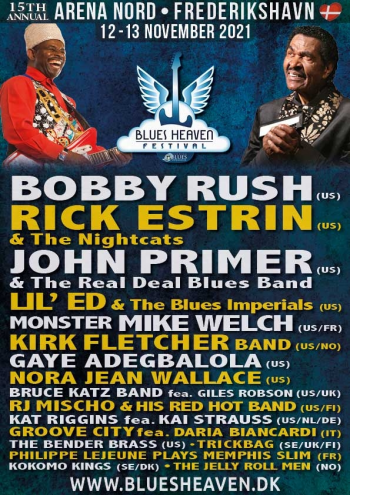 (FREDERIKSHAVN, DENMARK) – The world-renowned Blues Heaven Festival, a heavenly mix of blues and soul, happens this weekend, Nov 12-13 in the mighty Arena Nord (Harald Nielsens Plads, 9900 Frederikshavn, Denmark).
 
For the 15th year, Denmark's most prominent, multi-award-winning blues and soul festival will again deliver a high-caliber music program with a range of styles from both Grammy and American Blues Music Award (BMA) winning artists in the mighty Arena Nord. For 15 years, this musical cornucopia has been the ultimate winter medicine for the music-loving audiences from around the world. 

The cozy atmosphere among friendly people, and the fantastic unique musical experiences with primarily American Grammy and Blues Music Awards world stars, have always been the hallmarks of the festival. There are 2 large stages and an acoustic stage, two dance floors and plenty of seating. This year's lineup includes Bobby Rush, Rick Estrin & The Nightcats, Lil' Ed & The Blues Imperials, John Primer & The Real Deal Blues Band, Monster Mike Welch, Nora Jean Wallace, Kirk Fletcher, Kat Riggins, Gaye Adegbalola, RJ Mischo, Trickbag, Bruce Katz Band and more!

We look forward to this chapter in Denmark's music history, and are 100% sure that everyone will have an unforgettable experience at the Blues Heaven Festival. A warm welcome to you and a big thank you to everyone who helps make the second weekend in November the highlight of the year for blues, soul-blues-rock lovers.