"Dry Docked & Landlocked" but still Cruisin'
LRBC Jan 2021 Virtual Cruise – Sun Jan 31- Sat Feb 6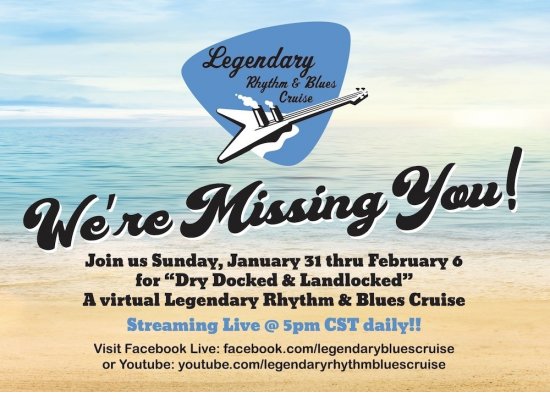 The Legendary Rhythm & Blues Cruise has teamed up with LRBC #36 artists to present "Dry Docked & Landlocked" a virtual Legendary Rhythm & Blues Cruise! Shoulda been sailin' on the Blues Cruise January 2021… but for now, we'll keep Driftin' with the Blues! It's a week full of surprise greetings, special performances by LRBC #36 artists and much more!

Airing 2 hours DAILY for 7 consecutive days: Sunday, Jan 31 through Saturday, Feb 6 at 3pm PST, 5pm CST, 6pm EST on LRBC Facebook Live
and LRBC YouTube Live

LRBC has also partnered with Can't Stop the Blues (CSTB), who will re-broadcast the virtual cruise daily at 6pm PST, 8pm CST, 9pm EST on Facebook or CSTB YouTube.

Get ready for the virtual sailing of the January 2021 Legendary Rhythm and Blues Cruise- about as much fun as you can have on dry land!