"Fall in Love with the Blues" Empress Theatre 109th Birthday Celebration Feb 14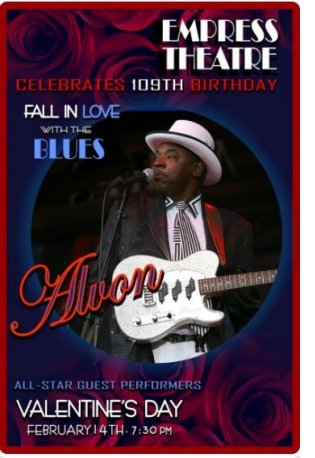 (VALLEJO, CA) – Tune in for a special Valentine's live-stream performance February 14 at 7:30pm PST on HOWLiVE.tv for Empress Theatre's 109th Birthday featuring all-star performers including Alvon Johnson, to celebrate this momentous occasion. The theatre has brought many happy memories to the Vallejo Community and beyond for over a century. We are pleased to continue this long-standing tradition. Please join us for a night of Blues music to honor this milestone!

Sunday, February 14th at 7:30 pm and tickets are $9. Please note that this is a live-stream only event, we will not be inviting guests into the theater.

You can also purchase a birthday candle for $109 dollars and you will receive a Valentine's Day card with two vouchers to redeem for a performance of your choice. Your name will appear onscreen at the performance, on our website, and on a poster in front of the Empress Theatre. Click here and scroll to bottom of page to purchase your candle and/or event ticket!

We will be accepting donations during this event. Any donation you make will help keep the Empress Theatre going. It takes so much to keep our historic theater alive; and in order to keep bringing you quality content, we appreciate anything you can give!