First Wednesday Blues and Jazz Poetic Cafe to feature David Dot Hale Nov 3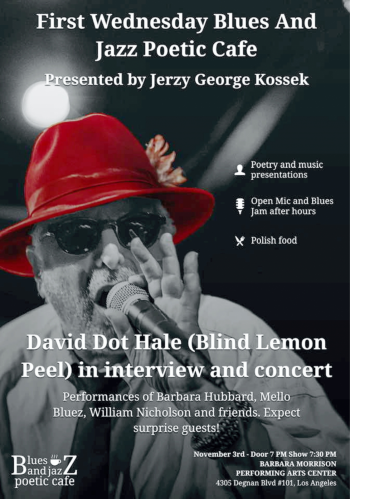 (LOS ANGELES, CA) – The First Wednesday Blues and Jazz Poetic Cafe is an influential art, cultural, musical, and educational event happening once a month (12 editions per year) at Barbara Morrison Performing Arts Center in Los Angeles, hosted by Dr. Blues Jerzy George Kossek Ph.D., Memphis Blues Foundation Keeping the Blues Alive Award multiple Recipient.

The main idea behind Blues and Jazz Poetic Cafe is to provide space, stage, and forum for Artists who think that poetry and lyrics in blues and jazz matter. Each Cafe features educational lectures and presentations, readings and recitations by poets, actors/actresses, open mike presentations, poetry contest, poetry and book reviews, music presentations, interviews with prominent guests, Fine Arts Gallery, Artistic Photo Gallery, Video Presentations, Screenings and Film Shorts presentations, Merchandise sales, Book sales, and Donations.

David Dot Hale, a.k.a. Blind Lemon Peel in the Red Hat, hits the stage of Blues and Jazz Poetic Cafe, Wednesday, November 3, at the Barbara Morrison Performing Art Center (4305 Degnan Blvd., #101) Los Angeles, California. Doors 7pm, show 7:30pm.

Be prepared for the mix of variety, vaudeville, comedy, freak and cabaret show, one of a kind, an all-in-one experience rooted in hearty bluesy traditions of songsters, shouters, growlers, and talkers exemplified in modern blues by John Lee Hooker, Howling Wolf and Koko Taylor trapped in a small town fairground circus and merry-go-round atmosphere suddenly frequented by Captain Beefheart and furthered to Waitsonian hoboes like reality spiced by Kansas Jump Blues jazzy piano of New Orlean's Dr. John and this is how you ultimately arrive at the show perfectly emceed by the Master of this musical gumbo ceremony – Mr. Blind Lemon Peel his own bad self.