Florida's Blues on Reid Saturday, April 10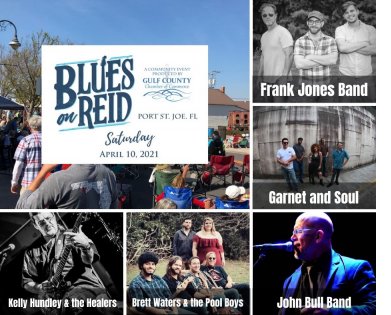 (PORT ST. JOE, FL) – The 2021 Blues on Reid is happening this Saturday, April 10, 2021 from noon-7pm on Reid Avenue in downtown Port St. Joe, Florida. This free community event is brought to you by the Gulf County Chamber of Commerce. 
 
Headlining from 5:30-7pm is power trio the Frank Jones Band who explore the boundaries between blues, rock, jazz, and soul with a dynamic mash of hard-hitting grooves, blistering guitar riffs and soulful melodies. The group features southern soul vocalist and guitarist Frank Jones who's influences range from Albert Collins, B.B. King, Albert King, The Funky Meters, Clarence Carter and Ray Charles all the way to Sly and the Family Stone, The Beatles, Edgar Winter and more.

Garnet and Soul are an eclectic 5-piece band of funk-craving soul monsters who have come together to make the world a better, funkier, place. 

Alabama harmonica player John Bull takes his blues all over the southeast but is most at home in the real-deal Juke joints of Alabama and Mississippi.

Brett Waters and The Pool Boys are a powerhouse group with the common love of soul, blues, honkytonk, and funk. Their musical influences include Joe Cocker, Eric Clapton, Freddie King, as well as honky-tonk country tunes.

Kelly Hundley and the Healers will be opening the 2021 Blues on Reid at 1pm with their brand of hot-rockin' Blues fronted by singer/guitarist Kelly Hundley. Their influences include Eric Clapton, Albert King, B.B. King and Robert Johnson.