Inaugural OB Blues Fest happens Sunday Nov 7th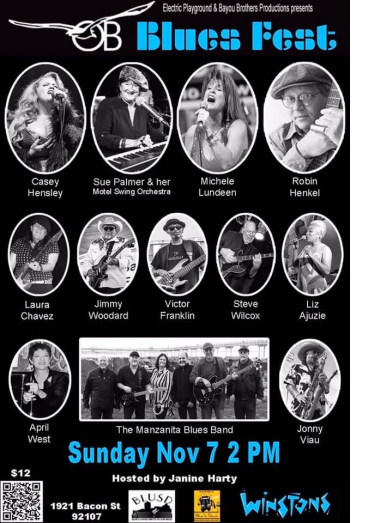 (OCEAN BEACH, CA) – The Inaugural OB Blues Fest will be held Sunday Nov 7th at 2 PM at popular venue, Winstons Beach Club (1921 Bacon St.) in the heart of San Diego's Ocean Beach. Appearing will be an allstar lineup including many multiple award-winning artists like Vizztone recording artist Casey Hensley, "The Queen of Boogie Woogie" Sue Palmer & her Motel Swing Orchestra, "The Queen of Steam" Michele Lundeen, Robin Henkel, The Manzanita Blues Band, BMA Nominee Laura Chavez, Jimmy Woodard, Liz Ajuzie, Steve Wilcox, Victor Franklin, Karl Dring, Ric Lee, April West, Jonny Viau and many more! Six hours of nothin' but the Blues!  
 
The festival is the brainchild of longtime friends Ric Lee of Bayou Brothers Productions and Paul Bolton of Electric Playgrounds. The pair felt Ocean Beach was ready for its own blues festival and looks forward to it bringing down the house. 

"Blues fans need to step out now, especially to support the smaller clubs that have been in limbo for nearly two years," says Ocean Beach local resident and blues fan Mary Ann Haskell. "This festival will be like a fun 'family' reunion." Lee, Bolton and the blues artists and blues community at large are counting on it. The 1st OB Blues Fest is 21+ and limited tickets are only $12 at Eventbrite.