Keeping The Blues Alive Awards Ceremony Jan 21, 2022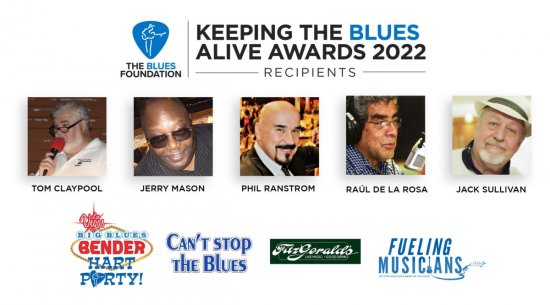 (MEMPHIS, TN) – The Blues Foundation will celebrate the Keeping the Blues Alive Award Recipients during IBC week at a ceremony and brunch, Friday, January 21, 2022 at 11am at the DoubleTree Hotel. The KBA Ceremony and Brunch is a ticketed event. 
 
2022 KBA recipients are:
Big Blues Bender's HART Party. The Big Blues Bender is a 4-day music festival held annually in Las Vegas, Nevada and a fundraiser that graciously supports the HART (Handy Artist Relief Trust) Fund.
 
Can't Stop The Blues: "Can't Stop the Blues" (CSTB), was founded by Karen Gottheimer in March of 2020. The CSTB virtual concert series, streamed on Facebook and YouTube, created a groundbreaking and desperately needed virtual space during the lockdown for the blues scene plus an artist revenue stream. 

 
Tom Claypool: For the past three decades, Tom has chosen to donate his time and talents to music organizations, music events, and public radio in order to give back to the community that first inspired him.

 
FitzGerald's Roadhouse: Since 1981, FitzGerald's Roadhouse in Chicago has been a champion for all kinds of American roots music that has included a constant flow of top-notch blues artists. 

Fueling Musicians Program: One of the most notable programs funded by Joe Bonamassa's Keeping The Blues Alive Foundation is the Fueling Musicians initiative, designed to provide critically needed assistance to musicians whose income has been eliminated by the COVID-19 pandemic.
 
Jerry Mason: Jackson, Mississippi-based entrepreneur and promoter Jerry "Boogie" Mason built a network of traditional and new media connections via e-mail, print advertising, and social media, to promote blues, Southern soul, and other genres of music rooted in communities of color. 

Phil Ranstrom: This American documentary filmmaker lives in Chicago, Illinois and has been writing, producing, and directing award-winning documentaries since the 1980s.

Raúl de la Rosa: Broadcaster, journalist, cultural promoter and curator of the blues since 1964, Rosa organized Mexico's first blues festival in 1978 and produced eleven more between 1978 and 2012. 

Jack Sullivan: For over 30 years Sullivan has achieved national and international success as a magazine publisher (Blues Music Magazine), festival promoter, and online music store marketer.