New Blues Festival is back this weekend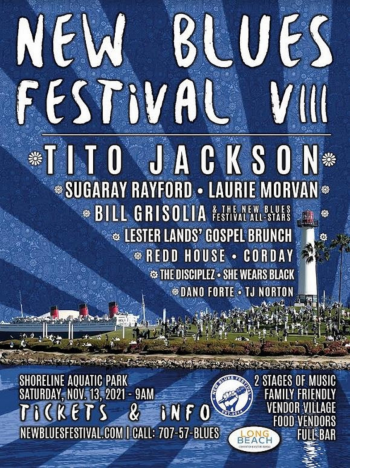 (LONG BEACH, CA) – The New Blues Festival VIII, the only year-ending Blues Festival in Southern California, will take place at Shoreline Aquatic Park, 200 Aquarium Way, Saturday, Nov. 13. Gates open 9AM and a Gospel "brunch" with Lester Lands starts at 9AM so get yourself there on time for this experience.
 
The tight lineup features Headliner, recently-Signed Gulf Coast Records recording artist and R&B legend, Tito Jackson; Blues vocalist extraordinaire and multi-Blues music award winner, Sugar Ray Rayford; longtime So Cal-based fiery guitarist, vocalist, Laurie Morvan; newly-formed Bill Grisolia & the New Blues Festival All-Stars; New Orleans transplant and longtime Blues guitarist, Lester Lands; SoCal-based award-winning multi-genre guitarist-vocalist, Corday; eclectic blues-rock trio, The Disciplez; She Wears Black featuring Long Beach's very own blues diva, Shy But Flyy; tasty Tex-Mex Blues from Redd House; musician, surfboard shaper, So Cal surf legend, Dano Forte; and UK native TJ Norton of TJ & The Suitcase, the blues harp man, singer, songwriter known as the "One-Man Band."

New Blues Festival is presented in conjunction with the Long Beach Blues Society who are devoted to "Preserve the Past, Promote the Future."

Parking is available at the Pike Garage off West Shoreline Drive.