News From the Slidewinder Roy Rogers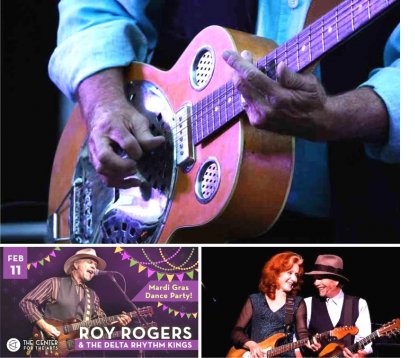 "Happy 2023! Excited to be re-entering the live performance world once again after an amazing 40 + years of touring the globe. It's been quite a ride these last 2 years, and we so appreciate all of your support in getting through this crazy pandemic time."
Roy Rogers & The Delta Rhythm Kings have a show coming up at the beautiful newly renovated Center for the Arts in Grass Valley Saturday February 11. This show is for Mardi Gras season – so be bold, costume up, and bring your dancing shoes!
Roy says he's also looking forward to the dates with Bonnie Raitt as her Just Like That tour continues. Look for them Tuesday, March 14 at the Long Beach Terrace Theater (Long Beach, California), Tuesday, March 21 at the Santa Cruz Civic Auditorium (Santa Cruz, California), and Wednesday, March 22 at the SAFE Credit Union Performing Arts Center (Sacramento, California).
Roy Rogers will also be playing at the Big Blues Bender in Las Vegas, Nevada during Sept 7-10.
"That's not a slide on Roy Rogers' pinky, it's a time machine. With it, Rogers transports you to the Mississippi Delta's past and future. ……" – Guitar Player
The RR SlideZone Vault is also packed with memories, and the RR team says they'll be putting up some very rare and wonderful live footage and "moments" in TV & Film on the RoyRogersSlides YouTube channel. You can subscribe here and share with friends and family circles as they build this channel.
(Top Photo): Roy & his 12 String Dobro (from the early 1960s) Photo by David Rocco, The Nashville Social Club, Carson City, Nov 2022