Prairie Du Chien, Wisconsin, USA July 30 & 31, 2021

The Prairie Dog is one of the most laid-back blues festivals out there! It is held every year on historic St. Feriole Island in a beautiful city park, right on the Mississippi River and nestled between jagged cliffs and green hills untouched by the Ice Age! Once you get that cold drink in your hand, great tunes in your ear and good, friendly people all around, you'll realize you're at one of the most beautiful venues anywhere and will soon be calling yourself a Prairie Dogger!!!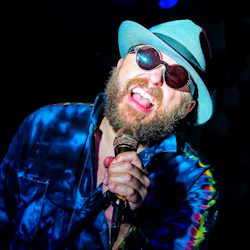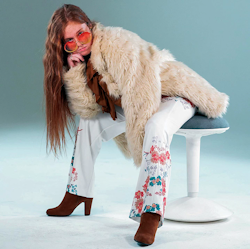 This year's festival features: Ally Venable Band, Reverend Raven & The Chain Smokin' Altar Boys Featuring Westside Andy, Lil' Ed & The Blues Imperials, John Németh, Hooten Hallers, Avey Grouws Band, Roscoe Foster and The Rascal Theory, Bell Bros. Blues Revival (Lurrie & Steve Bell), Amanda Fish, Tony Holiday, Altered Five Blues Band & Vella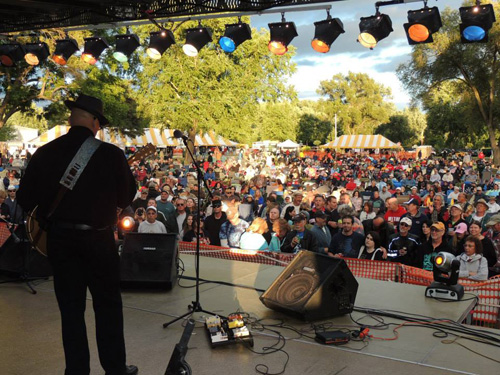 Tickets and camping are available online after May 1 at www.prairiedogblues.com. Information on accommodations can be found at www.prairieduchien.org or by calling 800-732-1673. Like our Facebook page and watch to win free tickets to the Fest!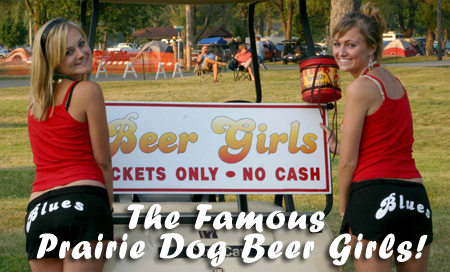 There are some hard choices to be made at The Prairie Dog! You can either get up out of your chair, stretch and walk a few yards to the beer tent or you can have one of these lovely ladies bring your drink to you! Decisions, decisions!!!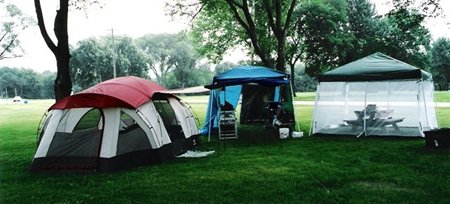 Camp right on site with your friends and meet new friends! Typical walk from your site to the gate of the festival is 200-300 yards. Food & drink as well as campfires, singing, playing music and telling stories is strongly encouraged. It is a 1 block walk off The Island and you are downtown surrounded by family owned pubs, restaurants and small retail stores. Most of the downtown pubs this year will have bands as well. If staying in a motel is more your style, blues fest shuttles will get you to the fest in a 5 minute drive or less!

Lodging:
If you're thinking about a motel, you need to book now and tell them that you are coming in for the blues fest, just in case we are blocking a room that they are not telling you about. You can even camp right at the fest grounds! Complete area lodging and camping information is available on our website. We hope to see you at the Fest!

Tickets:
You can order tickets online after May 1 or over the phone at 1-608-326-0085. The handling and processing cost is lower through our online shopping cart vs. by telephone. Tickets are $35 for one day and $65 for both days. Advance ticket pricing good through July 17. Orders placed July 18-24 will not be mailed, and will be waiting at the Will Call gate. No online or phone ordering after July 24. Tickets will be available at the gate.Venue and Directions:
The Festival is held on historic St. Feriole Island, right on the Mississippi River. Click here for detailed information on how to get to the Prairie Dog Blues Festival via automobile.Information:
For additional information about accommodations or about the city of Prairie du Chien call 1-800-732-1673 or visit prairieduchien.org
Friday, July 30th, 2021Ally Venable Band
5:00pm
Texas's favourite new gunslinger Ally Venable is coming off the ropes swinging with her new album "Heart Of Fire". Defying dark times and rolling up the amps, this fourth release from the acclaimed singer-songwriter is a record to rattle your speakers and to signify better times ahead. "My vision was to really spread a positive message of love," says Venable. "The world needs that right now."

Reverend Raven & The Chain Smokin' Altar Boys Featuring Westside Andy
7:00pm
A favorite far and wide for two decades, Reverend Raven and the Chain Smokin' Altar Boys featuring Westside Andy Linderman play traditional blues, straight up with a big dose of passion. Smoking grooves, hot harmonica and smooth, stinging guitar pepper their original songs with nods to Slim Harpo, Little Walter, Jimmy Rogers, Billy Boy Arnold, Junior Wells and the Three Kings.

Lil' Ed & The Blues Imperials
9:00pm
Born in Chicago in 1955, Lil' Ed Williams, although small in stature, is a true giant of the blues. He is among the last legitimate West Side Chicago buesmen and a direct link to authentic pure Chicago blues. From smoking slide guitar boogies to raw-boned Chicago shuffles to the deepest slow blues, Lil' Ed Williams is a master bluesman. A gifted guitarist and a remarkably gritty and soulful vocalist, Lil' Ed along with his road-tested band, The Blues Imperials, has been tearing up clubs and festival stages all over the world for almost 25 years. Not since the heyday of Hound Dog Taylor & The Houserockers has a Chicago blues band made such a consistently joyous rollicking noise. Between the band's wonderfully untamed music and Ed's flying leaps, his back-bending, his toe-walking through the audience and his sliding across the stage on his knees, it's no wonder The Boston Globe called Lil' Ed & The Blues Imperials "the world's #1 houserocking band." The band won the prestigious Blues Music Award for Band of the Year in both 2007 and 2009 and also took home Best Live Band in the 2011, 2012 & 2013 Living Blues Critics Poll. Blues Revue said, "Listen and hear how great a blues player can make a guitar weep… Lil' Ed is a blues master at the top of his game."
John Németh
11:00pm
In 2017 Németh released Feelin' Freaky (produced by Luther Dickinson) on his own Memphis Grease label, crushing all barriers of style and genre with an album of original songs that defied all the usual pigeonholes, drawing from his strong influences in blues and R&B, as well as contemporary sounds in hip hop and rock n roll. Later that same year, Németh was part of a side project The Love Light Orchestra Featuring John Németh recorded live at one of Memphis' favorite watering holes, Bar DKDC. The 10-piece band was initially envisioned by guitarist Joe Restivo, vocalist John Németh and arranger/trumpeter Marc Franklin.

Németh returned to Electraphonic in December of 2019 with his seasoned road band of young gun players, The Blue Dreamers, featuring 19 year-old guitar phenom from Philadelphia, Jon Hay, drummer Danny Banks and Matt Wilson on bass for a rowdy southern swamp roots session resulting in his 10th album, Stronger Than Strong demonstrating, yet again, his uncanny ability to skillfully blend retro and modern blues and soul into compelling music that is simultaneously old and new.


Hooten Hallers
Under the Tent
Columbia, Missouri trio The Hooten Hallers are a high-energy blues-rock band known for hard-traveling and wild live shows, with a seemingly endless tour schedule. The myriad of influences in their music incorporates elements of rhythm & blues, rock n roll, honky tonk, jazz, soul, and punk with a thematic penchant for the strange and the unexplained. Their live shows take the listener on a seamless ride from unapologetically raucous blues on the lap steel and bass sax, to a sweet three part harmony country ballad, to a romping dance number.

Listeners often detect hints of George Thorogood, Morphine, and Tom Waits, but anyone who has seen The Hooten Hallers live knows that this power trio is unlike anything they've experienced before.

John Randall's demonically-tinged vocals and manic guitar, and Andy Rehm's screaming falsetto vocals and steady, pounding drum beat keep the band focused on their unique blend of deep blues and country punk. Kellie Everett brings the power with the deep rumble of her baritone and bass saxophones. When The Hooten Hallers come to town, you know it's gonna be a party!

Saturday, July 31st, 2021Roscoe Foster and The Rascal Theory
12:30pm
Roscoe Foster and The Rascal Theory (trt) loves to harness that power and electrify audiences with their fiery brand of Blues/Rock.

With an original vibe that invokes both the legendary Chess and Stax sounds, they have been rocking stages from Madison,WI to Memphis,TN and many points between. You best believe this band will make you move and groove all night long.

Roscoe Foster and The Rascal Theory is:

Front Man and Keyboardist Roscoe Foster,
Drummer Linwood "Woody" Riley,
Bassist Joe Iaquinto
Guitarists Jack "J. P." Peterson, and Brian Barta

Take a look around and get to know Roscoe Foster and The Rascal Theory (trt) and all we have to offer…we double dog dare ya!Bell Bros. Blues Revival (Lurrie & Steve Bell)
2:30pm
Born in 1958, the son of famed blues harmonica player Carey Bell, Lurrie Bell picked up his father's guitar at age of five and taught himself to play. He was clearly gifted. In addition, he grew up with many of the Chicago blues legends around him. Eddie Taylor, Big Walter Horton, Eddie C. Campbell, Eddie Clearwater, Lovie Lee, Sunnyland Slim, Jimmy Dawkins and many more were frequent visitors to his house. They all helped to shape and school him in the blues, but none as much as his father's long-time employer Muddy Waters.—Steve Bell, brother of bluesman Lurrie Bell, and son of the late and legendary blues harpist Carey Bell, is a chip off the old-man's block. Steve had toured all over the world, backing up many blues legends, while also stealing the show with his amazing skills on the harmonica. He's currently been touring with blues great John Primer.

Steve has previously recorded with Alex on his first release "The Vintage Room" by The Blues Experience Cash McCall, and has returned to lend his harp blowing abilities on the newest project for Vintage Dixon. You're in for a treat…his skills will not disappoint!Amanda Fish
4:30pm
Amanda Fish is an Indie Blues artist from Kansas City who scratched her name into the scene as a solo artist, beginning as a singer songwriter in late 2012. She refined her original material as a solo act for 2 years before she formed her band in early 2014. This Roots Rock and Soul quintet features slide guitarist and Stone Cutters Union frontman Sean McDonnell. The band's dual slide and rock guitars along with Amanda's signature 'from-the-gut' vocals locks into a sturdy groove.In 2018, Amanda released her second all original studio album, "Free", on VizzTone Label Group, debuting at #6 on Billboard Blues Album Chart and nabbing a 2019 Blues Music Award for Best Emerging Artist Album.
Tony Holiday
6:30pm
Salt Lake City isn't one of the first places that come to mind when thinking of blues music, but for Tony Holiday (harmonica, guitar, vocals) that's where he found it. Growing up on country and bluegrass music by way of people like George Jones, Hank Williams and Bill Monroe, Tony was in love with music from an early age. His band Tony Holiday and the Velvetones landed gigs opening for Willie Nelson and
Blind Boys of Alabama by the time the band's
guitar player Lanny Stone was only 21.

Holiday and Stone co-front the band and co-write all the songs, leaving Joel Meza (drums) and Cody Downs (bass) to lay the groove.Altered Five Blues Band
8:30pm
Altered Five Blues Band makes music with a swaggering stomp of bruising, barrelhouse grit. According to Downbeat magazine. Blues Bytes magazine declares the group features "the funkiest rhythm section outside of Memphis."

A 2018 Blues Music Award nominee, the Milwaukee-based quintet released its new album, Ten Thousand Watts, on Blind Pig Records. Recorded over four days in Nashville and produced by three-time Grammy winner Tom Hambridge, The collection of songs reflect the continuing evolution of the band's deft songwriting, blended with the intuitive musical interplay of the longtime bandmates. The album reached #10 on the Billboard Blues Chart, hit #1 on both the iTunes and Amazon blues charts, and the song "Great Minds Drink Alike" won first place in the blues category of the 2019 International Songwriting Competition.
Vella
10:30pm
At just 17-years-old, Gabriella Valdes, better known as Vella, is already making waves on the internet and is positioning herself to be a household name. Vella recently went viral on social media and now boasts millions of followers on her social media accounts. Featuring a dynamic voice that can go from a roaring belt to a sweet and soothing falsetto in a matter of seconds, Vella naturally displays the kind of vocal control that is sought after by even the best of singers.

Avey Grouws Band
Under the Tent
Avey Grouws Band met at a Quad Cities blues jam along the Iowa side of the Mississippi River and leapt into view with their 2020 debut album 'The Devil May Care', which hit #10 on the Billboard Blues Chart and #24 for 2020 on the Roots Music Report Top Contemporary Blues Albums Chart. They've won a top spot in the Unsigned Only Songwriting Competition, are finalists in the International Songwriting Competition, were nominated in the 2020 BBMAs and are nominated in 4 categories in the Independent Blues Awards. From local stages to the IBCs, Elmore Magazine and DownBeat Magazine to UK Radio, the reviews have been thrilling. Avey Grouws Band is not to be missed!———————————————————————————
Questions? Call Todd at 608-326-0085 or email us at info@prairiedogblues.com

Copyright (C) 2021 Prairie Dog Blues Fest. All rights reserved.

LONG LIVE THE BLUES!