Prairie Dog Blues Festival July 30-31 on St. Feriole Island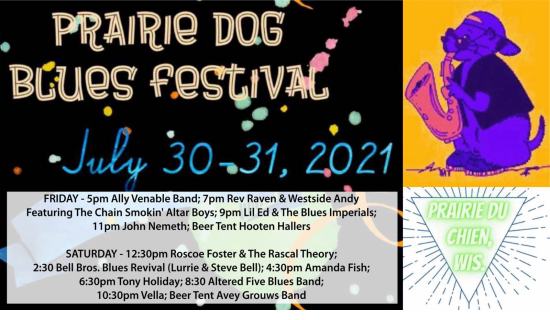 (PRAIRIE DU CHIEN, WI) – The Prairie Dog Blues Festival is one of the most laid-back blues festivals out there! It is held every year on Wisconsin's historic St. Feriole Island in a beautiful city park, right on the Mississippi River and nestled between jagged cliffs and green hills untouched by the Ice Age! Once you get that cold drink in your hand, great tunes in your ear and good, friendly people all around, you'll realize you're at one of the most beautiful venues anywhere and will soon be calling yourself a Prairie Dogger! 
 
This year's festival is July 30-31 and features: Ally Venable Band, Reverend Raven & The Chain Smokin' Altar Boys Featuring Westside Andy, Lil' Ed & The Blues Imperials, John Németh, Hooten Hallers, Avey Grouws Band, Roscoe Foster and The Rascal Theory, Bell Bros. Blues Revival (Lurrie and Steve Bell), Amanda Fish, Tony Holiday, Altered Five Blues Band, and Vella. Plus, there is onsite camping or hotels nearby with shuttles running back and forth.
 
You can camp right on site with your friends and meet new friends! Typical walk from your site to the gate of the festival is 200-300 yards. Food and drink as well as campfires, singing, playing music and telling stories is strongly encouraged. The festival is a 1-block walk off The Island and you are downtown surrounded by family-owned pubs, restaurants and small retail stores. Most of the downtown pubs this year will have bands as well. If staying in a motel is more your style, blues fest shuttles will get you to the fest in a 5-minute drive or less!
 
Tickets and camping are available online after May 1 at the website. Information on accommodations can be found here or by calling 800-732-1673. Like our Facebook page and watch to win free tickets to the Fest!