Reading Blues Fest Nov 19-21 with Mr. Sipp, Victor Wainwright, Ana Popovic & more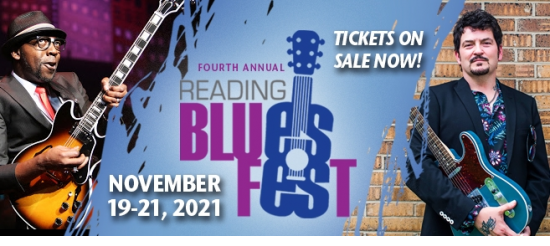 (READING PA) -The 4th anniversary of the Reading Blues Fest will be presented by Berks Arts, located in Reading, Pennsylvania, November 19-21, at the Hilton DoubleTree Grand Ballroom.
 
Performers for the 2021 festival include Mr. Sipp the Mississippi Blues Child; Clarence Spady and the Electric City Band; Victor Wainwright and The Train; Davy Knowles; Slam Allen; Ana Popovic; King Solomon Hicks; and Mike Zito.

The dynamic Mr. Sipp kicks off the fest on Friday, Nov 19, 7:30PM, headlining a co-bill with opening act Clarence Spady. The passionate Ana Popovic will headline co-bill Saturday, Nov 20, 7:30PM with Slam Allen opening the show. Wild piano man Victor Wainwright & The Train will headline a co-bill with Davy Knowles on Saturday, Nov 20, at 1PM. in the DoubleTree Grand Ballroom. The critically acclaimed Mike Zito closes out the Reading Blues Fest on Sunday, Nov. 21, headlining the Sunday Blues Brunch with King Solomon Hicks will opening.
 
The mission of Berks Arts Council is to inspire, engage and unite our community through arts education, collaboration and presentation.