River Basin Blues Fest is July 31 in Indiana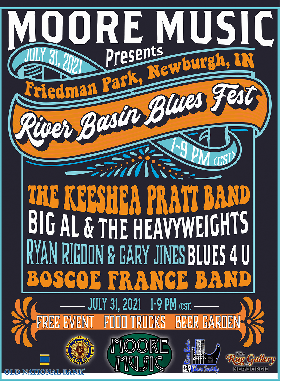 (NEWBURGH, IN) – The River Basin Blues Society and Moore Music will present the 2021 River Basin Blues Fest, Saturday, July 31st at Friedman Park Amphitheater in Newburgh, Indiana from 1pm-9pm (CST). The event is free and there will be both regional and national live music, food trucks and a beer garden.

Performing are the Houston based, international award-winning Keeshea Pratt Band who possess the skill and artistry of the blues and old-school Motown. Keeshea Pratt is the siren featured on the soaring, soulful, Mississippi-inspired vocals.

Big Al & the Heavyweights will be offering up a musical gumbo from Cajun to zydeco, blues to rock, and everything in between. 

Blues 4 U is the only band to play all 30 years of the W.C. Handy Blues and Barbeque Festival in Henderson, Kentucky. The group features a Who's Who of all-star area talent.
 
Boscoe France's authentic musical style is an awe-inspiring alchemy of blues, rock, and little bit of down-home soul. 

The acoustic blues guitar and harmonica duo of guitarist RJ Rigdon and harmonica man Gary Jines follow in the styles of Robert Johnson, Son House, and Big Bill Broonzy. The duo has been a fixture with the River Basin Blues Society since their beginnings.