RL Boyce Picnic & Workshop Oct 16-17
(COMO, MS) – Come on! Join us for the annual RL Boyce Picnic Oct 16-17 and "Walk Like A Big Blues Mane" workshop weekend.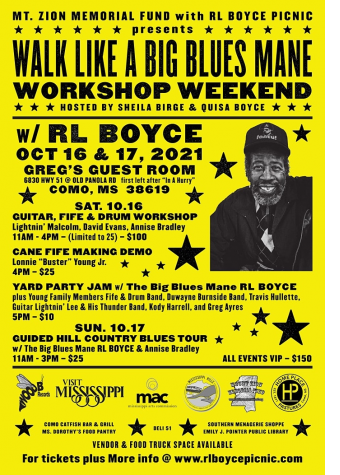 Saturday Oct 16 at Greg's Guest Room, 16830 Old Panola Road (@HWY51) Como, Mississippi.
– 11-4PM Guitar Drum Workshop w/RL Boyce, David Evans, Annise Bradley $100 (limited to 25)
– 4PM Cane Fife Demo Lonnie "Buster" Young Jr. ($25)
– 5PM Yard Party Jam w/RL BOYCE ($10) Young Family members Fife & Drum Band, Lightnin Malcolm, David Evans, Duwayne Burnside, Kody Harrell, Travis Hullette Guitar Lightnin Lee and his Thunder Band and Mr. Greg Ayres
 
This is an outdoor event. Masks encouraged social distancing observed
 
Sunday Oct 17
– 10AM Breakfast at Huddle House – 500 E. Main St. Senatobia MS.
– 11AM Guided Hill Country Blues Tour w/ RL BOYCE and Annise Bradley. Join RL BOYCE and Annise as they lead all to pay homage to Jessie Mae Hemphill, Calvin Jackson, Fred McDowell, Napoleon Strickland, Otha and Bernice Turner, RL Burnside, Abe, Ed and Lonnie Young. Drive Compress Rd., LPS Ball Field, Hunter Chapel, and RLs home. ($25)
 
*All Events VIP ($150) All scheduled events (limited) Visit the website for more details and tickets.