Stax Museum and Stax Music Academy Black History Month Celebrations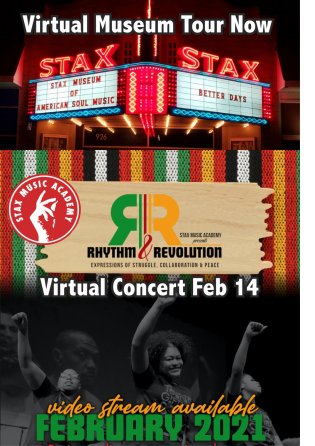 (MEMPHIS, TN) – Throughout American history, music has played a pivotal role in the fight for racial equality. From the message songs imprisoned Africans crafted as a way to communicate with each other during slavery, to impassioned protest songs during the Civil Rights Movement of the mid-20th century, the soundtrack generated by Black singers, musicians, and writers has provided as much nourishment for the struggle as any factor in the fight for freedom.

The celebrate Black History Month 2021, the world-renowned Stax Museum of American Soul Music began an all-ages virtual tour (free to students and educators) starting February 10. You can register here. 

Also, beginning February 17, world-renowned Stax Music Academy (SMA) will host a pay-what-you-can virtual Black history program. SMA is blending echoes of the past with technology of the future by offering a virtual Black History Month production titled "R & R: Rhythm and Revolution: Expressions of Struggle, Collaboration, and Peace." Look here for more information on that event.
 
Traditionally, SMA has hosted two live, in-person performances in celebration of Black History Month – a free morning show for area students and a ticketed evening performance. However, due to the COVID-19 pandemic and safety-related issues, they will present an online variety show exploring Black history through music, people, and pride. 

Filmed in various significant locations in Memphis, the Feb 17 virtual Black History Month SMA show will feature the music of soul greats from Aretha Franklin and Al Green to The Jackson 5, Janet Jackson, and legendary artists of Stax Records including the Staple Singers and Albert King. A combination of R&B classics mixed with original music from SMA's talented students, young viewers will experience music of the Civil Rights Movement and more recent songs.