Terrance Simien and the Zydeco Experience "Mardi Gras Mambo" Live from Louisiana!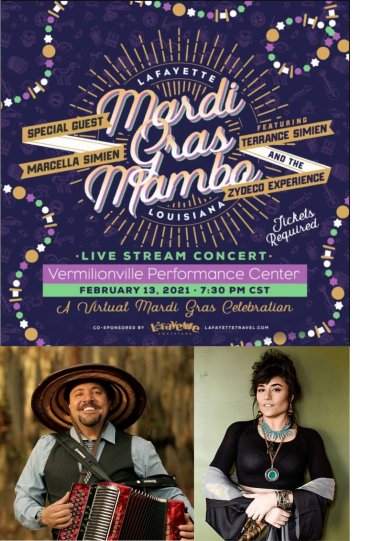 (LAYFAYETTE, LA) – The public revelry of Mardi Gras in Louisiana is on hold until 2022, but that's not stopping us from sharing the music and culture with a joyful performance from Creole country! On Saturday, February 13th you can celebrate with Terrance Simien and the Zydeco Experience Mardi Gras Mambo live from Louisiana! Showtime is 5:30 PT, 7:30pm CT, 8:30pm ET.

Terrance Simien and his band have toured every Mardi Gras for more than 35 years – exporting the music to 100's of cities all over the country! However, this year, like the parades, balls and public revelry in New Orleans, their MG touring has also been put on hold. That will not stop the music from playing on with a special full band performance from the Vermilionville Performance Center in Lafayette, LA Saturday, Feb 13th, 2021 beginning 5:30 PST. There will be a backstage pass before the concert, and some very special guests joining them like Marcella Simien. The event will be streaming on watch.mandolin.com and tickets are $15 and available here. Affiliate program also available through Mandolin.

Cajun zydeco artist Terrance Simien is an energetic barefoot, bead-shaking bayou bad boy who first rose out of the swampland near Eunice, Louisiana. When the first Grammy award for Cajun/Zydeco music was finally awarded in 2007 Simien nabbed the initial trophy in the genre. Simien fronts the Zydeco Experience Band and has taken his unique danceable sound around the globe from Cuba to Canada, Mississippi to Mali, and Paraguay to Paris.