Tickets for the June 6th 42nd Blues Music Awards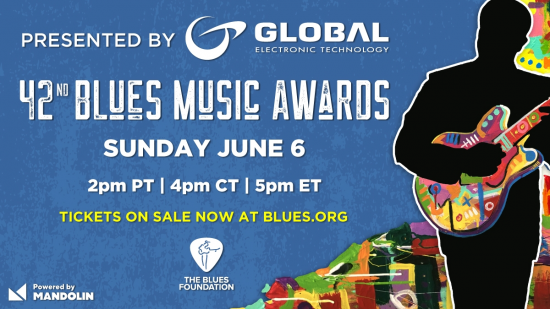 The wait is over! Tickets to the 42nd Blues Music Awards on Sunday, June 6th are on sale now! The Blues Foundation has partnered with Mandolin, the streaming platform chosen by blues musicians and blues fans everywhere, to bring you an elevated viewing experience of the 2021 Blues Music Awards! The BMA's will air Sunday, June 6th 2pm PT, 4pm CT, 5pm ET.
 
BMA Tickets:
$20 General gets you One (1) entry to virtual BMA
 
*$50 VIP gets you One (1) entry to virtual BMA
• One (1) official 2021 Blues Music Awards poster
• One (1) entry to the exclusive pre-show sponsored by the LRBC:VIP Blues Lounge Backstage with Art Tipaldi and Friendsfeaturing: Elvin Bishop, Thornetta Davis, Dion DiMucci, Harrison Kennedy, and Sugaray Rayford.
 
*Special Offer: Be among the first 100 to purchase a VIP ticket and you will be entered for a chance to receive 1 of 10 VIP blues boxes. Ten randomly selected VIP ticket holders will receive a "Taste of Memphis" Blues Box containing Four Roses Bourbon, POP-A-ROOS BBQ Flavored Popcorn, Beale Sweets Sugar Shack Fudge, Blues City Café Rub Seasoning, Dinstuhl's Fine Candy Chocolate, and other tasty gift items.
 
Click here for tickets and more details.