Vero Beach Blues & BBQ Festival this weekend Feb 12-13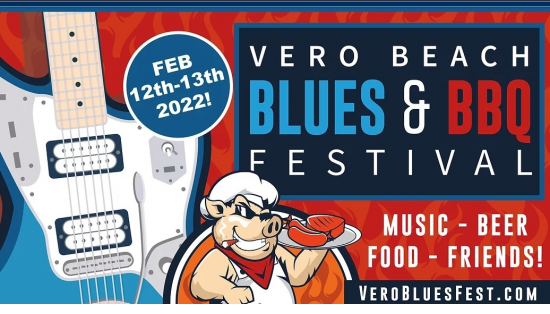 (VERO BEACH, FL) – The Vero Beach Blues & BBQ Festival debuts this weekend, February 12-13, at Indian River County Fairgrounds (7955 58th Ave.), in Vero Beach, Florida. The festival runs Saturday 11am-10pm and Sunday 11am-5:30pm. The lineup features 7 acts on Saturday with Selwyn Birchwood headlining that night, and 4 acts on Sunday. Admission is only $5 and under 13 is free, as is parking.
The event is offering more Incredible food, adult beverages and outstanding live music then should be allowed on the Treasure & Space Coast, plus 180 marketplace vendors in the middle of the event! Stroll through the aisle-ways of arts and crafts and local business vendors with a cold beer or cocktail! Expect the unexpected in the Vendor Marketplace! Open Day and Night at the festival.
See the Classic Car Show on Saturday only. You can't miss it as you walk through the gates! Grab a beer or cocktail and let the good times roll baby!
The blues is a state of mind… find yours at the Vero Beach Blues & BBQ Festival!