Wayne Baker Brooks
Now Available for 2022 Festival Bookings




Wayne Baker Brooks is considered one of today's top guitarists who's signature style combines powerful vocals with liquid fire guitar playing that honors his rich blues heritage yet effortlessly expands the boundaries of the genre.

Born and raised in Chicago, IL amongst the most prolific blues legends and blues masters in the world, Wayne Baker Brook's blues roots may run deeper and wider than the
Great Lakes themselves. 

CLICK HERE FOR EPK

"WBB took complete control of the stage & audience at the North Atlantic Blues Festival. The fans were blown away by the music & talent of Wayne. Wayne was a pleasure to work with & showed that he always puts on a great show. I look forward to working with him again."
— –Paul E. Benjamin/Executive Director,
North Atlantic Blues Festival
"Wayne Baker Brooks set at The Pocono Blues Festival was electrifying….Wayne is a must for all venues large & small and for any talent buyer that takes their music seriously."
— Michael Cloeren, Event Producer/Talent Buyer for Penn's Peak and Pocono Blues Festival

Chicago Blues laid the foundation for Wayne's innovative style. Growing up, Brooks was a regular visitor to such historic places as Chess Studios, Checkerboard Lounge, Wisefools, and many other blues landmarks at which he witnessed many live performances by blues masters like Buddy Guy, Jr. Wells, Luther Allison, KoKo Taylor, the great Muddy Waters, & his father.

The youngest son of blues master Lonnie Brooks –
Wayne Brooks was literally born into the blues! 

Leaving no way around the fate appointed him he soon joined his father's (Lonnie Brooks) band as his rhythm guitarist, then quickly became the musical director. Then in 1997, he formed the Wayne Baker Brooks Band while continuing to work with his father's band. He made a cameo appearance in the film Blues Brothers 2000.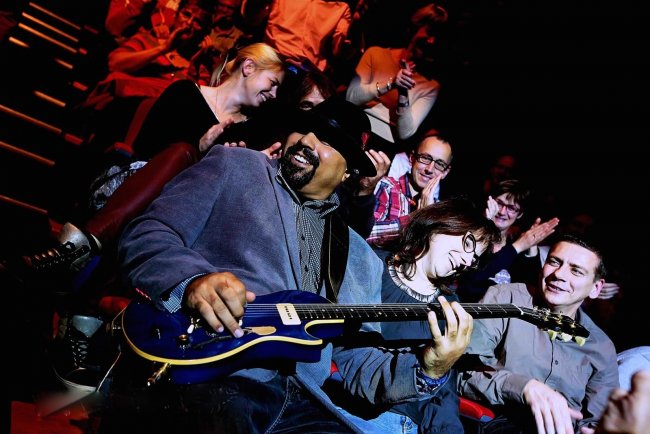 CLICK HERE TO WATCH PERFORMANCE VIDEOS

With the release of his  acclaimed debut CD "Mystery" "an album that brilliantly draws on blues, blues rock, soul, funk and beyond". "Mystery" received multiple awards and praise from
the music world.

Along with releasing his book "Blues for Dummies" he was soon touring the world and featured on national TV  programs (including ABC, CBS, NBC, FOX, & CNN's "Showbiz"), as well as endless radio programs, print media, & special media events including performing for First Lady Hilary Rodham Clinton at Chess Studios (Willie Dixon Blues Heaven Foundation) with legends Bo Diddley, Lonnie Brooks, KoKo Taylor. After Wayne and his special guest exhilarating set, Hilary stated,
"My husband is going to be so jealous he missed this!".

Listen to Music Here

Career Highlights

Discography

WBB has performed with, supported/opened for, and/or appeared on TV with such notables as:
Buddy Guy, Koko Taylor, Bo Diddley, Corey Harris, The Black Crowes, Otis Rush, Jr. Wells, Shemekia Copeland, Johnny Lang, Susan Tedeschi,  Keb Mo, Jimmy Vivino, Robert Randolph, Taj Mahal, Mick Fleetwood, Otis Clay, Bobby Rush, Elvin Bishop,
Billy Branch and many more… 

Wayne Baker Brooks and his Band continue to play the world over with WBB's signature top-shelf brand of guitar playing and a live show that should
not be missed!

BOOKING
NORTH AMERICA,
SOUTH AMERICA, EUROPE & ASIA
(+1) 773-336-2589
booking@bluesisland.com
www.waynebakerbrooks.com