Yuba City Brews, Blues and BBQ Aug 28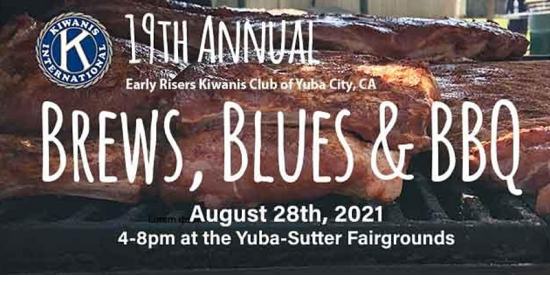 (YUBA CITY, CA) – The 19th annual Brews, Blues and BBQ event hosted by the Early Risers Kiwanis Club of Yuba City will be held this Saturday, Aug 28th at the Yuba-Sutter Fairgrounds (442 Franklin Ave., Yuba City, California). Gates will be open 4-8pm.

Event chairman Tom Walther said organizers are expecting about 800 people to attend. This is the largest fundraising event hosted by the club that supports local children's groups and program. This year there will be about 15 drink vendors onsite, including the Happy Viking beer wagon.

Tickets cost $50 in advance or $60 at the gate. To purchase tickets online visit here or purchase in person at the Happy Viking, 741 Plumas St., Yuba City, or at Beach Hut Deli, 1655 Colusa Highway #400, Yuba City.

Included in the cost of the ticket is unlimited samples of micro brews, ciders and wine, your choice of a half rack of St. Louis style ribs, a tri-tip sandwich with beans and coleslaw or a 10-inch personal size stone fired pizza from Rolling Stone Pizza Company and soda and water. There will also be a raffle.
 
Check the Yuba-Sutter Fairgrounds website if interested in camping details.